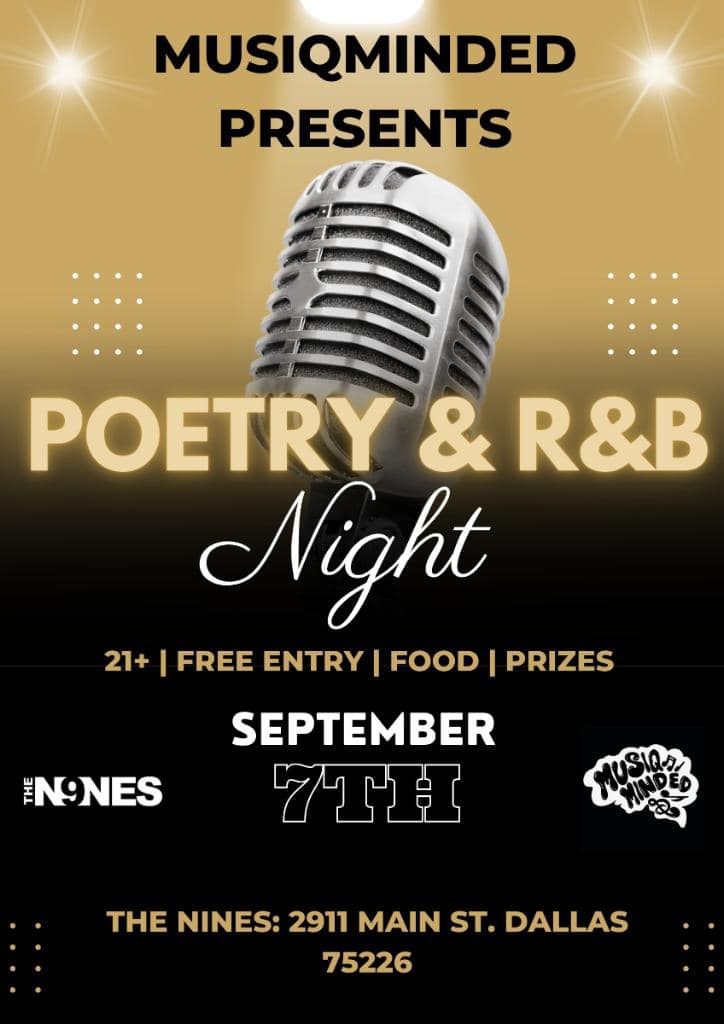 Calling all poetry enthusiasts and R&B lovers!
MusiQ Minded Presents: Poetry & Soul
Get ready for an unforgettable night of soulful expression and captivating melodies at our Open Mic Poetry and Open Mic R&B event! Join us on September 7th at The Nines, located in the heart of Deep Ellum.
Step into a world of Love Jones-inspired ambiance, where emotions flow freely and hearts connect through powerful words and soul-stirring music.
Ignite your passion for poetry as talented wordsmiths take the mic, sharing their raw emotions and thought-provoking verses. Feel the power of their words as they paint vivid landscapes of love, heartbreak, and everything in between.
Let your soul be serenaded by the sweet melodies of R&B artists who will grace our stage with their enchanting voices. Lose yourself in the rhythm and let the music guide your heart on a mesmerizing journey.
Save the date: September 7th, 9:00 PM to 2:00 am. This event is exclusively for our 21+ audience, ensuring an intimate and mature atmosphere for all attendees.
Don't miss out on this extraordinary evening that blends the magic of poetry and the allure of R&B. Join us at The Nines in Deep Ellum for an open mic event like no other.
Spread the word and invite your fellow poetry enthusiasts and R&B aficionados. Let's come together to celebrate the beauty of art, love, and connection. See you there!