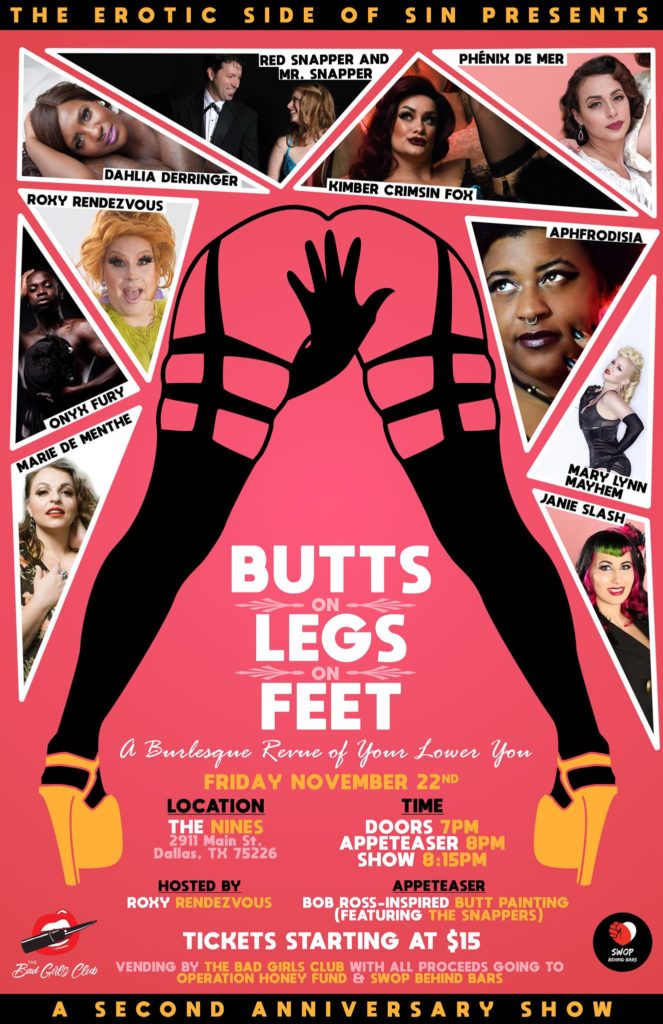 The Erotic Side of Sin is celebrating it's 2nd year of producing shows at The Nines in Deep Ellum and what better way to celebrate than with this stunning cast of "Butts on Legs on Feet: A Burlesque Revue of the Lower You" on 11/22?! We have all things butts, legs, and feet related but with that little extra kick you can expect at The Erotic Side of Sin's shows!
Doors: 7pm
Appeteaser: 8pm
Show: 8:15pm
Vending by The Bad Girls Club (with funds raised going to Operation Honey Fund and SWOP Behind Bars)
Hosted by Roxy Rendezvous
Appeteaser featuring Bob Ross inspired butt paintings with The Snappers (each painting will be raffled off by The Bad Girls Club)
With performances to keep you on your toes by:
Dahlia Derringer
Marie Dementhe
Aphfro'Disia
Janie Slash
MaryLynn Mayhem
Onyx Fury
Phenix De Mer
Kimber CrimSin Fox
Come and be on the edge of your seat all night for another unforgettable show!!!
Ticket link: https://www.prekindle.com/event/78962-butts-on-legs-on-feet-a-burlesque-revue-of-your-lower-you-dallas